The first week of October is National Walk Your Dog Week. With the cooler temps starting to creep in, it's the perfect time to pick up the leash and head out the door. Our canine companions are truly a special part of our lives and taking them for a walk can be some of the best times we can spend with them.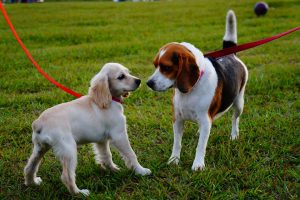 Here are some great ways to celebrate National Walk Your Dog Week with your pet
Take them to the dog park
Go for a hike
Walk around the town
Buy them a new leash or collar
Go for a nightly walk
Hire a dog walker
Benefits of Walking:
Physical & Mental Health:  It is no secret that obesity is on the rise for both humans and our pets.  Getting regular exercise is critical in warding off possible health problems such as osteoarthritis or diabetes.  Sometimes daily walks are the only exercise your dog gets all day and they need it to stay healthy and strong. Plus, getting outside for stimulation and socialization is great for their mental health.
Improved Behavior:  If your dog is good and tired from getting enough exercise there is a chance that they won't have the desire to chew on your shoes or bark at everything that moves outside. Also, by spending quality time with them helps strengthen your bond. In doing this, they also learn what behaviors are expected of them and are more likely to follow the rules.
If you are pressed for time, don't worry we're here to help! Don't hesitate to give us a call to help provide your dog with the walks they need during the week. We know that life can be busy and we don't always get to do the things that we would love to be able to do. Our qualified and caring dog walkers will be happy to come by for a good walk while you're away.